Text by Chi Ming Lai
25th April 2017
TENEK Ice Fields (2007)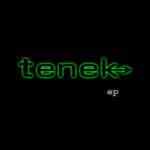 Borrowing the distinctive bassline from SIMPLE MINDS' 1981 single 'Love Song', Geoff Pinckney and Peter Steer put together this lively instrumental for their debut TENEK EP. With a modern mechanical groove coupled to their trademark synth rock, the almost funky 'Ice Fields' became an early live favourite, although the duo have focussed on more song based adventures for their three albums to date, 'Stateless', 'On The Wire' and 'Smoke & Mirrors'.
Available on 'EP1+'
via https://tenek.bandcamp.com/album/ep1
To read more from this issue, click HERE!